Since 2007, The Las Vegas Convention and Visitors Authority (LVCVA), in conjunction with National Travel & Tourism Week, honors exemplary employees every year who demonstrate superior customer service. They call these employees "Hospitality Heroes" – those who go above and beyond to deliver the best customer service and show the best hospitality to every visitor they meet. Congratulations to just a few of our Team Members who were recently honored.
Arturo R. from PALMS

Arturo has been with the company for more than 16 years. He is a server at the newly renovated Lucky Penny at Palms. Arturo works effectively with his team and has demonstrated leadership by helping to develop, lead, then professionally mentoring his fellow Team Members.
Arturo has the ability to work well under pressure. He always maintains great composure and humbleness as he goes above and beyond to help anyone in need. With his infectious smile, Arturo exemplifies the Station Casinos' culture in everything he does. His knowledge of the Food & Beverage industry is a great asset to our Company. Diligent work ethic makes him perfect for this award. Congratulations again Arturo!
Jon H. from Palace Station

Jon is an Engineer at Palace Station and was nominated by the hotel to win this illustrious title. He was presented with his trophy by Oscar Goodman, surrounded by Palace Station executives and many fellow Engineers. Congratulations Jon on this wonderful accomplishment!
Jon takes accountability and ownership in everything he does and exemplifies "Beyond the Best" service.  He follows through with all guest issues personally and treats the company like its his own. Jon always has a smile and a warm greeting for our internal and external guests and ensures that each guest is completely satisfied. He consistently gets guest compliments because he goes above and beyond. After 12 years with the Company, Jon is the definition of a True Team Player.
Beth B. from Boulder Station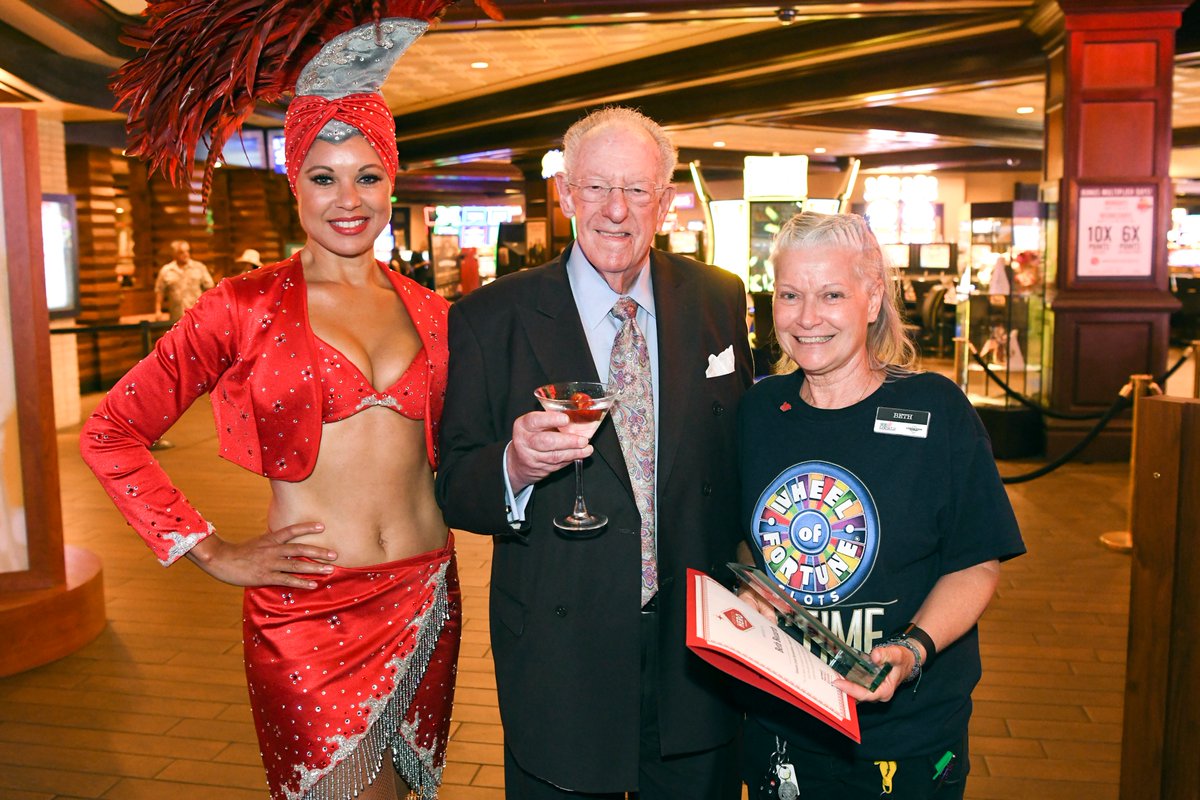 We would like to congratulate Beth B. from the Reward Center. Beth comes to work every day with the biggest smile and her positive attitude is contagious. Her smile brings joy to our guests; when she takes time off she is truly missed. Beth has created such a great rapport with our guests that they will wait in line just to say "Hello" or will call her name and wave to make sure she knows they are there and happy to see her.
Beth brings a lot of knowledge to our team, but more importantly she brings happiness, friendliness and makes our guests feel comfortable to return to see her day after day. Beth was nominated with the full support of the Boulder Station Executive Team. Congratulations Beth! We are glad you are part of Boulder's family.
"Beth is not only an amazing example of what hospitality is all about but she is also our Hero for doing what she does every day." – Vicki Gomez, Rewards Center Manager, Boulder Station
Tim D. from Fiesta Rancho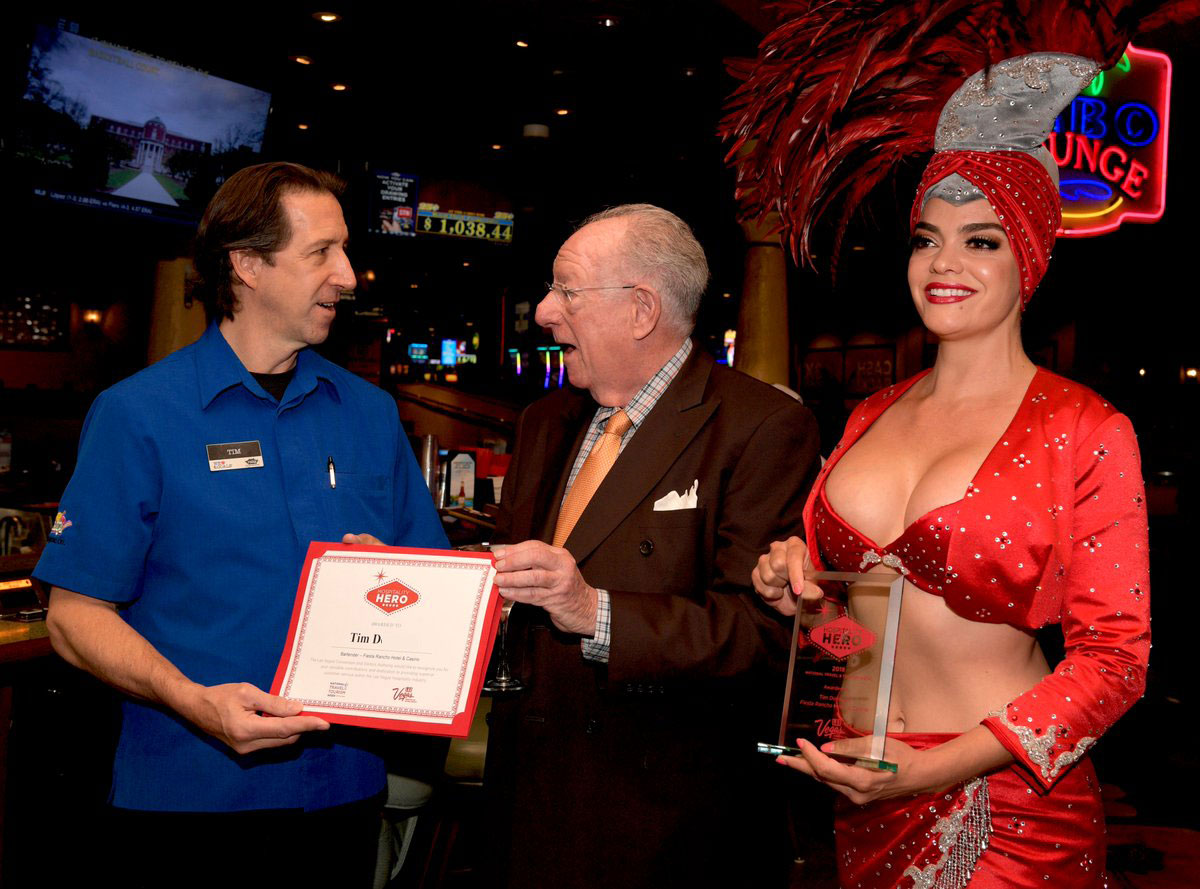 Fiesta Rancho would like to honor and shine the spotlight on our 30+ year Team Member, Tim! Tm started in the beverage department at Palace Station in 1987 and has worked at multiple Station properties. He transferred to Fiesta Rancho in 2001.
"If you're ever at Fiesta Rancho, stop by his bar you will not regret it, He is awesome!" – Joe Perez, Executive Chef, Fiesta Rancho
What stands out is Tim's work ethic, professionalism, and his industry knowledge! When you have Tim as your bartender, he makes you feel like you're a part of his family. Whether you're a regular or new guest at his bar he makes you feel as if you were in his home. We know when we send him a new Team Member to train, that Team Member will walk away with the knowledge to run any position in any outlet. He or she has been trained to the fullest extent they will need. Tim is a true icon in the beverage industry and we have been very fortunate to have had him the last 30 years as a part of our team.
"I have had the privilege of knowing Tim for over 20 years.  We both opened Sunset Station together.  I can say that Tim has always been a true professional in his field. He comes to work with a positive attitude and always leads by example. Tim builds relationships with fellow Team Members and guests. Tim leads by example and is one of our trusted trainers. He develops the new hires to take ownership and take pride in not only their job but their bar. It is truly an honor to have Tim a part of the team and I thank him from the bottom of my heart for all the hard work he does. It does not go unnoticed. We truly appreciate him and everything he brings to the team." – Jewels Berrier, Director of Food and Beverage, Fiesta Rancho and Texas Station
Khalid E. from Sunset Station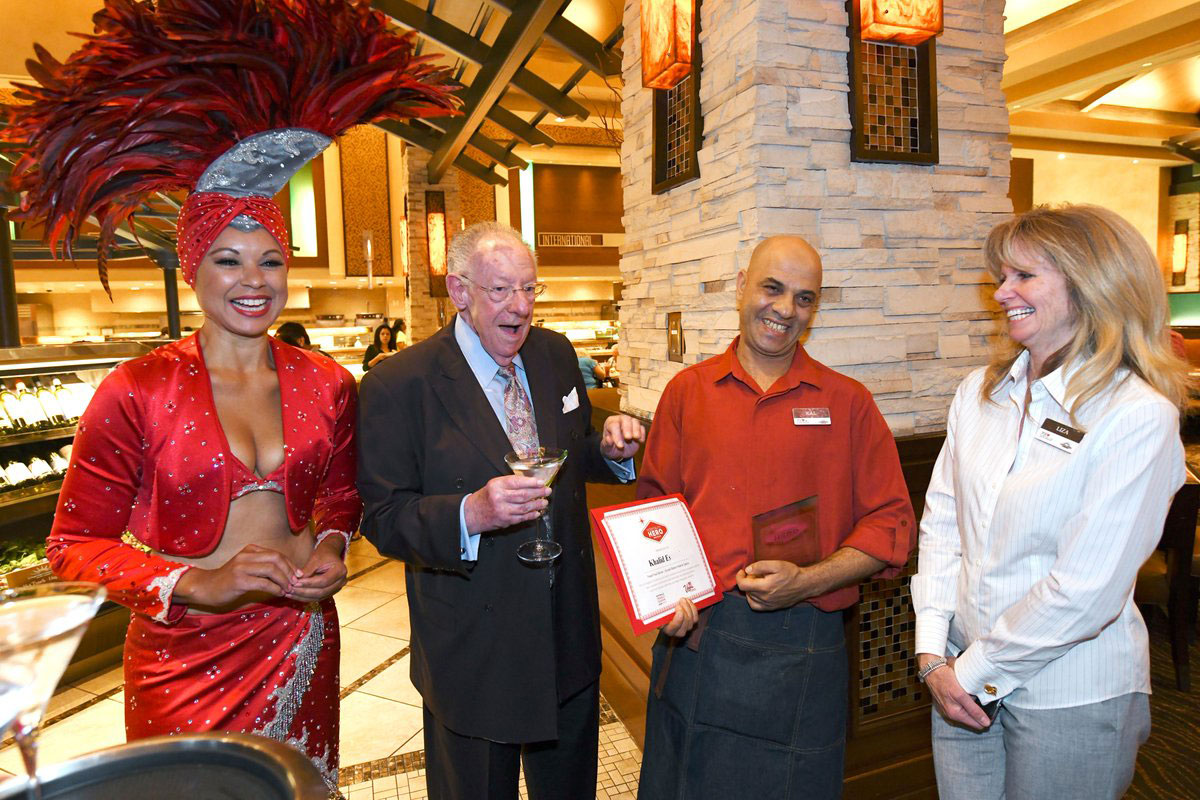 Khalid has been with the company for more than 15 years. He is a server in the Feast Buffet at Sunset Station. Khalid is an excellent server with outstanding guest service. On a daily basis Khalid assists Managers to help the buffet run smoothly.
Khalid receives compliments from guests regularly and Sunset Station is so proud of his
"In my 14 years of going to Sunset Station, I've never had such an amazing and memorable experience as I had today. Working in the service industry for many years, I can say that you have an incredible employee working for you. His guest service is incredible. His smile is infectious. He more than anticipated everyone's needs and genuinely asked and cared about each party of his. I wish Khal the absolute best. I've been so moved by his guest service that I wanted to take the time to notify you of his amazing guest service. I'm asking that he gets rewarded on such an amazing job. It's employees like Khal that keep me coming back year round!!! Thank you very much, Khal!" –  Edwin C., Sunset Station Guest
After the presentation, our famous Gaudi Bar bartender Russell served up "The Oscar Goodman Legend Martini." ? Mr. Goodman loved it and says he will be back for more!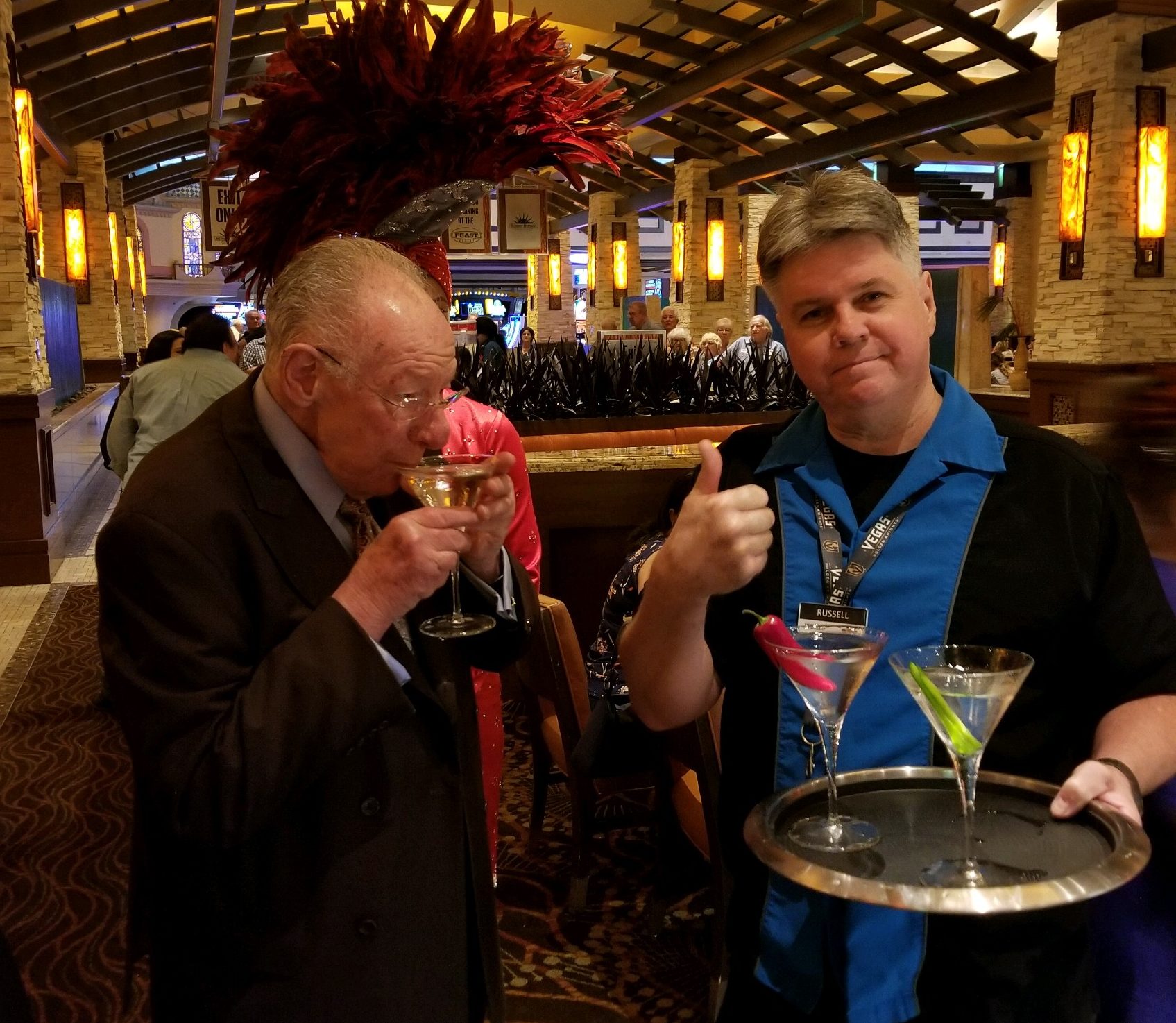 For those of you interested in making "The Oscar Goodman Legend" Martini yourselves:
2 oz Bombay Sapphire
7/8 oz White Cocoa
0.6 oz Chambord
Shake it, Strain it, Keep it cold and enjoy!