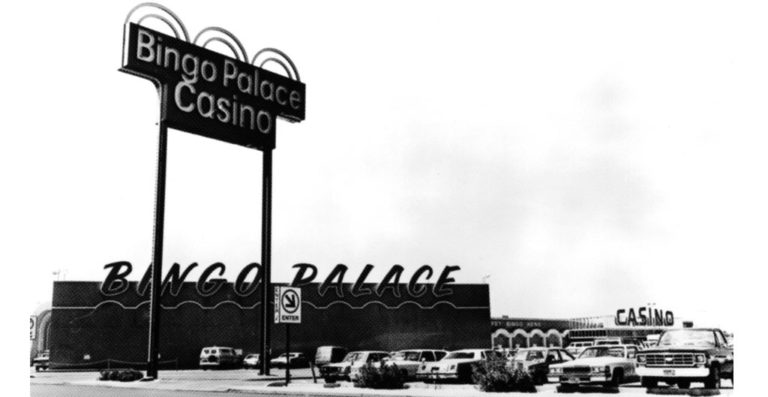 More than forty years ago, Frank Fertitta Jr. had an idea for a different kind of casino.  He envisioned a casino that would cater to the people who lived and worked in Las Vegas.  It would provide great value and offer exceptional guest service away from the crowds on the Strip and in downtown Las Vegas.  On July 1, 1976, Mr. Fertitta opened a 5,000-square-foot facility called "The Casino" attached to the Mini Price Motor Inn on Sahara Avenue just west of the Strip, featuring 100 slot machines, a few table games and a snack bar.

The Casino quickly became THE LOCALS' FAVORITE!  One year later, the first of more than a dozen expansions took place with the addition of a bingo room and an appropriate name change to the "Bingo Palace."  Over the years, Mr. Fertitta added more entertainment amenities, which again created the need for a more fitting name.  Mr. Fertitta felt that it was important for his guests to have a say in the property's evolution, so he initiated a "Name the Casino" promotion.  More than 26,000 entries were received in three weeks and a Las Vegan named Claire Jarvis won first place with her suggestion of "Palace Station."

Mr. Fertitta's sons, Frank III and Lorenzo, worked at the property while going to school and learned the gaming business directly from their father.  In 1993, Mr. Fertitta retired and Frank III assumed leadership of the Company.  Frank III saw how Las Vegas was growing and, believing the Palace Station business model could be successfully replicated, opened Boulder Station in 1994.  Its success led to the development of additional gaming and entertainment destinations throughout Las Vegas.  Today, the company that started with 90 team members now has more than 14,000 Team Members and operates 20 gaming venues.

Mr. Fertitta's idea of creating a casino catering to locals has grown into one of the most successful companies in Las Vegas history.  And while much has changed and evolved over the past 40 years at Station Casinos, one thing remains the same . . . the goal of providing guests with convenience, value, and great service.